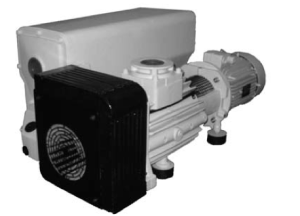 Applications:
Vacuum Evaporation
Vacuum Sputtering
Food Processing
Vacuum Coating
Leak Detection
Vacuum Furnaces
Roughing Vacuum Systems
The SOGEVAC series is a single stage vacuum pump used in industrial and vacuum systems applications. SOGEVAC is an oil sealed vacuum pump, meaning the oil in the pump helps form the vacuum. The comprehensive range of the SOGEVAC (pumping speeds ranging from 10 to 1200 m3 /h (5.9 to 707 cfm)) allows for vacuum pumping from very small systems to the largest systems. Additionally, the SOGEVAC can be teamed with a roots blower to enhance the pumping speeds. See the Systems section for more details.
SOGEVAC & SOGEVAC B Series
Continuous Operation from atmospheric pressure to ultimate pressure
Low Noise Level
Low Vibrations
Rugged
Maintenance-friendly
Low Space Requirement
Efficient Air Cooling
High Water Vapor Tolerance
Wide Range of Accessories available for easy customization for every applciation
Sogevac Product Information
Sogevac BI Series
The Sogevac BI Series pumps provide an extra decade of ultimate pressure while maintaining the durability of the industrial Sogevac design. Applications are instrumentation and analytical designs where the high vacuum pumps require a lower pressure for backing. Using the Sogevac BI Series saves money over a dual stage pump.
Sogevac BI Product Information