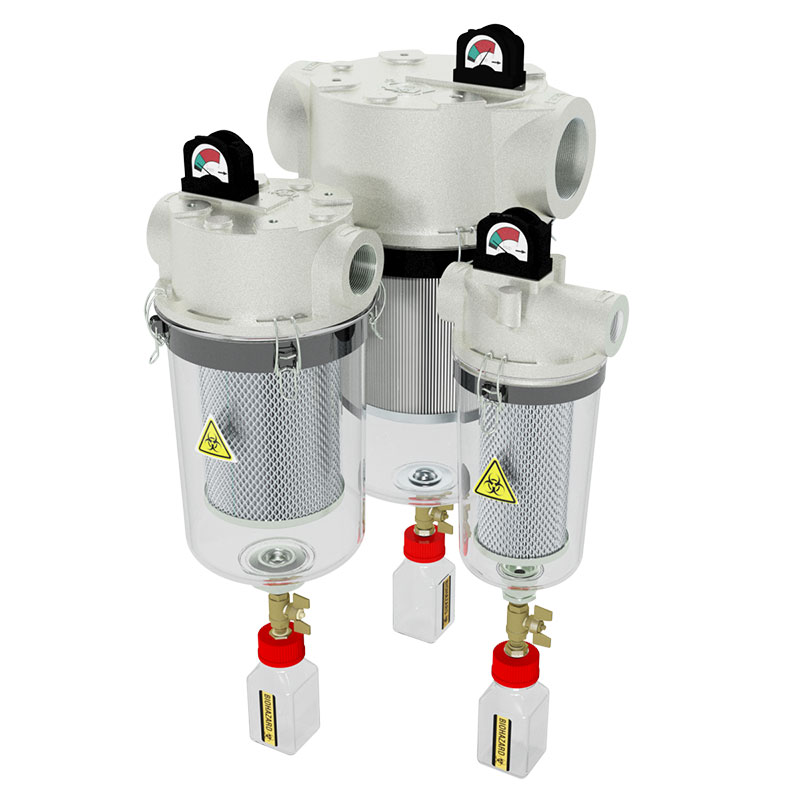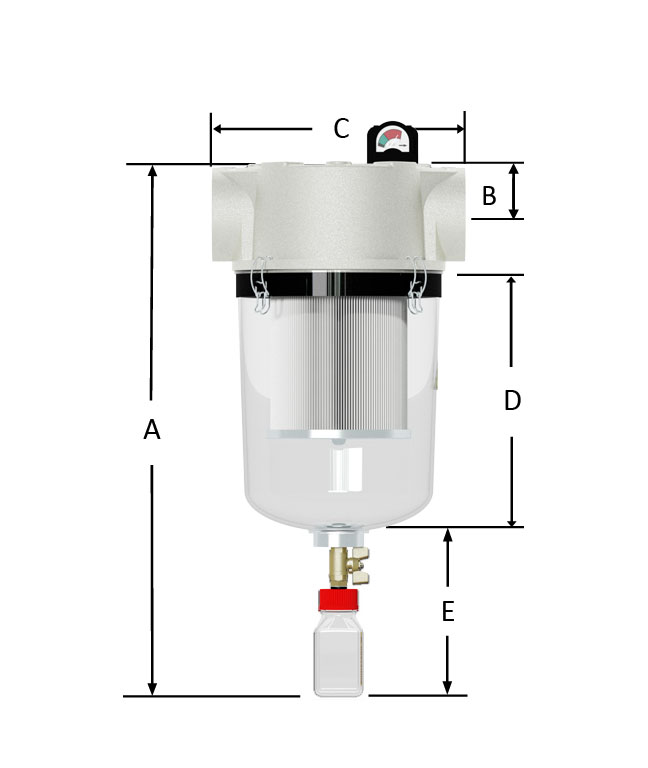 HV Series Operations Video
The HV Series bacterial filters for medical vacuum service design offers the most pressure drop performance of any filter on the market today while also meeting demanding filtration requirements in accordance with current European and US medical vacuum standards:
ISO 7396-1:2016 Medical gas pipeline systems — Part 1 Pipeline systems for compressed medical gases and vacuum
NFPA 99:2018 Health Care Facilities Code
With its transparent design, pleated element filters, expanded element surface area, and minimal pressure drop, the HV Series offers a high quality and long lasting solution that satisfies the strict requirements of medical applications and meets demanding industry standards.
The HV Series Medical Bacterial filter is verified by third party testing to insure it meets ISO 45H classification as defined in ISO 29463-1. The retention rate of the HV Series is greater than 99.995% total retention rate, offering an extremely high level of protection in medical/hospital, dental, and laboratory applications.
Vacuum Pumps & Systems
Laboratory Industry
Hospital Vacuum Units
Medical gas distribution systems (Certified by independent testing)
Features
Meets NFPA 99 requirements for vacuum filtration
Operating pressure range: atmospheric to full vacuum
ULPA - UL media - 99.995% @ 0.1 micron; Low air to media ratio minimized pressure loss for optimal pump performance; High dirt holding capacity
Temp (continuous): min -15°F (–26°C) max 220°F (104°C)
Corrosive resistant aluminum cast head
Brass valve and fittings for contaminated liquid release
Glass drain flask for easy removal and sterilization
"Easy Read" pressure drop indicator gauge
Bucket made from shatter resistant polycarbonate
Biohazard label
Designed specifically for use in laboratory and hospital work area environments
Meets ISO 29463-1 requirements for ISO 45H class filtration
HV Options
Available with or without gauge. (Standard HV part number includes gauge.)
Housings can be modified for mounting brackets by tapping the precast mounting bosses.
| MODEL | INLET CONNECTION SIZE (IN.) | OUTLET CONNECTION SIZE (IN.) | CONNECTION TYPE | RARIFIED AIR FLOW (SCFM)* | DIM A (IN.) | DIM B (IN.) | DIM C (IN.) | DIM D (IN.) | DIM E (IN.) | MEDIA | MICRON RATING | REPLACEMENT ELEMENT | |
| --- | --- | --- | --- | --- | --- | --- | --- | --- | --- | --- | --- | --- | --- |
| HV-UL896-100C | 1 | 1 | NPSC | 110 | 22.5 | 1.5 | 7 | 10.38 | 9.25 | ULPA | 0.1 | UL896 | ADD TO CART |
| HV-UL896-125C | 1.25 | 1.25 | NPSC | 123 | 22.5 | 1.5 | 7 | 10.38 | 9.25 | ULPA | 0.1 | UL896 | ADD TO CART |
| HV-UL896-150C | 1.5 | 1.5 | NPSC | 123 | 22.5 | 1.5 | 7 | 10.38 | 9.25 | ULPA | 0.1 | UL896 | ADD TO CART |
| HV-UL850/1-200C | 2 | 2 | NPSC | 383 | 25.5 | 2 | 9 | 12.5 | 9.25 | ULPA | 0.1 | UL850/1 | ADD TO CART |
| HV-UL850/1-250C | 2.5 | 2.5 | FPT | 383 | 25.5 | 2 | 9 | 12.5 | 9.25 | ULPA | 0.1 | UL850/1 | ADD TO CART |
| HV-UL234/2G-300C | 3 | 3 | FPT | 619 | 29 | 2.69 | 13.5 | 14 | 9.25 | ULPA | 0.1 | UL234/2G | ADD TO CART |
| HV-UL234/2G-400C | 4 | 4 | FPT | 619 | 29 | 2.69 | 13.5 | 14 | 9.25 | ULPA | 0.1 | UL234/2G | |