VARODRY Dry Screw Vacuum Pump For Industry
Models - 65 & 200 m3/hr Pumping Speed
VARODRY Dry Vacuum Screw Vacuum Pump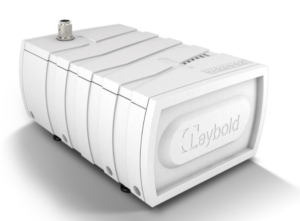 Applications
 Well-suited for use in all applications which require a dry and clean vacuum:
Electron beam welding
Lasers
Leak detection systems
Accelerators / synchrotrons
Transformer Drying
Load lock / transfer chambers
Lamp manufacturing
Brake Filling
Refrigeration System Pumping
Easy Efficient & Reliable Dry Vacuum Pumping
No oil, non-contacting screw vacuum technology 

High suction speed over the complete operational pressure range

High water vapor tolerance

Fast cycle times for rated pumping speed

Minimal noise level during normal operation

Easy-to-maintain long-life belt driven pump technology

Low operational cost air cooled design

Lowest power demand in its class
Replace Oil Sealed Vacuum Pumps
VARODRY Dry Vacuum Pumps are designed to replace older oil sealed vacuum pumps in industrial applications. The disadvantage of oil sealed vacuum pumps is that the water vapor and other contaminants from the process typically end up in the oil. Furthermore, oil degradation can lead to excessive pump wear which means the pump must be rebuilt more frequently or lose vacuum capability.
Pump Design
Non-Contacting Screw Technology with milled twin rotors to create vacuum with no particulate generation. To keep the design simple, the VARODRY screws are belt driven with a field serviceable belt. Ample air cooling eliminates utility costs and energy consumption. As a result, the VARODRY has a very low cost of operation compared to oil sealed vacuum pumps. 
VARODRY Application Benefits
Excellent Pumping Speed over Entire Pressure Range

Handles Fine Dust Particles without Pump Wear

High Water Vapor Tolerance

Can Handle Droplets or Liquid Slugs

Robust & Designed for Industrial Applications

Air Cooled Pump-No Water Cooling Needed 
VARODRY Maintenance Benefits
Drive Belt Exchange is 1 year or More

Belt Exchange Takes 30 Minutes or Less

Bearing Change is 3 Years or More 

Field Serviceable by Leybold Field Technicians
How the  VARODRY  Meets Your Vacuum Pumping Challenges
Repeated and Fast Cycling
The VARODRY provides quick pump down. In addition, it tolerates atmospheric pressure shocks and repeated evacuation cycles.
Reactive Gas Handling
Often vapors (ex. hydrocarbons) react inside hot dry pumps and cause build-up on internal screws which can cause the pump to seize. In the VARODRY, the temperatures are not high enough to cause this issue.

Water Vapor Handling
Due to its optimized temperature profile & integrated gas-ballast, the VARODRY offers a high water vapor tolerance, avoiding internal condensation and corrosion.
Liquid Handling
The VARODRY can handle liquid droplets or slugs as these flow freely through and outside the pump during normal operation.
Dust / Particle Handling
The pumps screw design optimizes the pump's ability to handle fine, dry dust particles without wear. In addition, a wide range of dust filters are available.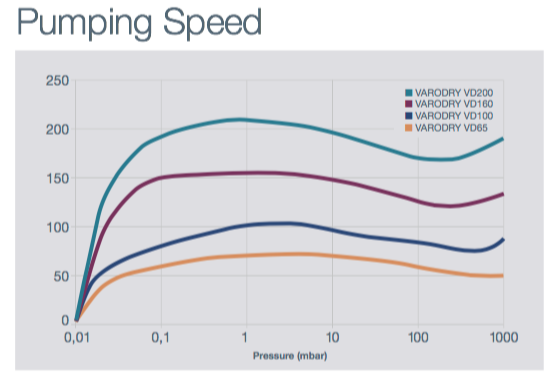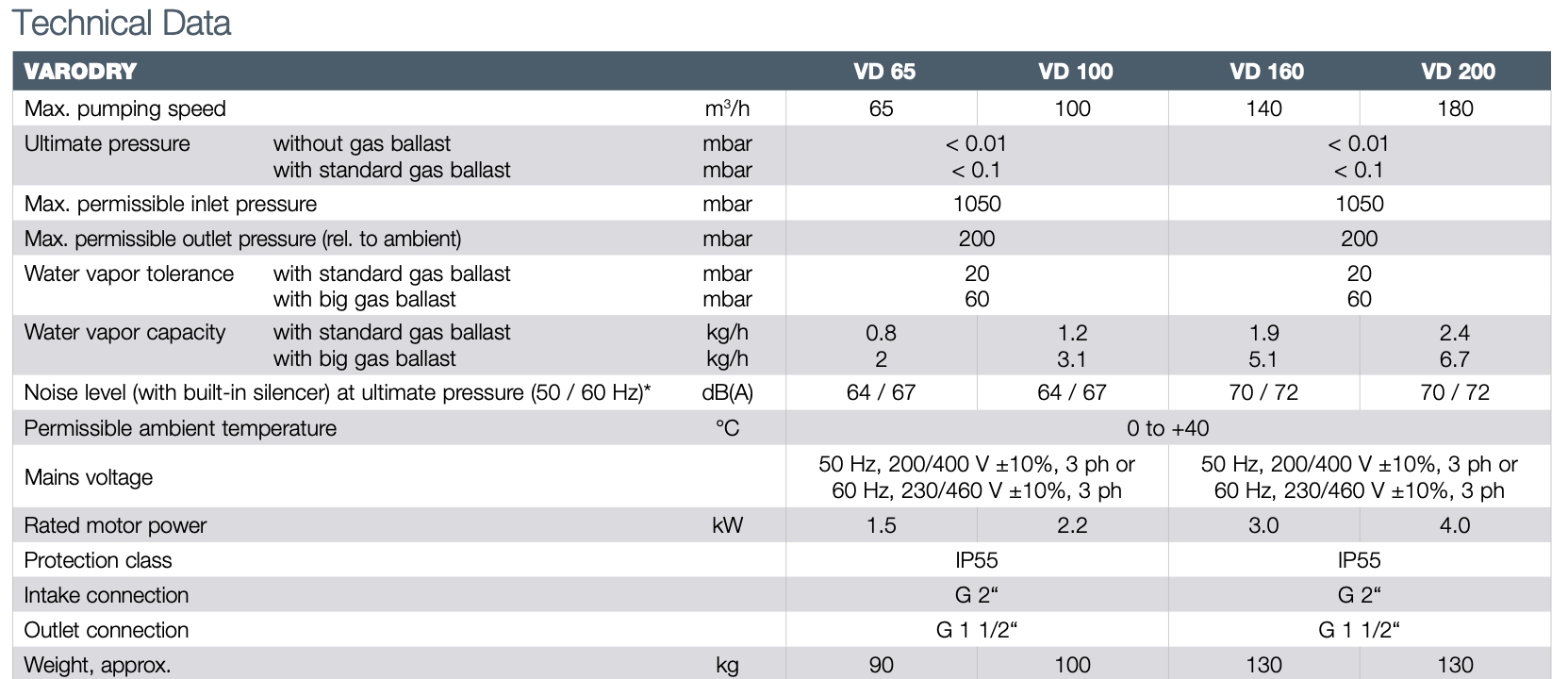 Operating Principle
Belt Exchange