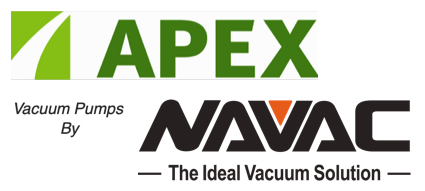 NRD Rotary Vane Vacuum Pump
Pumping Speeds Models 4, 8, 16, 24, 30, 40, 48 & 65
Standard and mild corrosive models
All models equipped with anti-suckback
Sealing parts are made from fluororrubber (FPM) improving sealing and corrosive resistance
Two shift Adjustable Gas Ballast
Forced Oil Circulation System
All features shown above
Built for mild corrosives such as Hydrogen Peroxide
PFPE prep or mineral oil applications
Welcome to the future of vacuum technology! Apex is pleased to partner with NAVAC to bring our customers great lower cost options in vacuum pumping. The NRD Rotary Vane Vacuum Pumps are designed to meet the highest standards of performance, reliability, and efficiency. Whether you're in research and development, manufacturing, or any industry that relies on precise vacuum applications, our pump is your trusted partner.
Key Features:
Unmatched Performance: Our Apex NRD & NRDM family of Rotary Vane Vacuum Pumps deliver exceptional pumping speeds and ultimate vacuum levels, ensuring your processes run smoothly and efficiently.
Reliability at its Best: Built with the highest quality materials and precision engineering, our pump is designed to withstand the test of time. Say goodbye to unexpected downtime..
Easy Maintenance: We understand that your time is valuable. That's why our pump is designed for easy maintenance, reducing your maintenance costs and increasing uptime.
Versatile Applications: From research laboratories to industrial processes, our Rotary Vane Vacuum Pumps adapt seamlessly to a wide range of applications. It's your all-in-one vacuum solution. Our M Series for work in moderately aggressive applications.
Compact and Space-Saving: With its sleek design and small footprint, our pump maximizes your workspace without compromising performance.
Why Choose Us?
Proven Expertise: With years of experience in vacuum technology, we are industry leaders trusted by professionals worldwide.
Exceptional Support: Our dedicated support team is always ready to assist you with any questions or technical issues, ensuring your satisfaction.
Custom Solutions: We understand that every application is unique. We offer customizable options to meet your specific needs.
Strong Competitive Pricing: Enjoy top-quality technology without breaking the bank. We offer competitive pricing without sacrificing quality.
Global Reach: We serve customers around the world, ensuring you have access to our exceptional products and support no matter where you are.
Upgrade to the Future of Vacuum Technology
Experience the power of innovation with our Rotary Vane Vacuum Pumps. It's time to take your processes to the next level. Contact us today to learn more, request a quote, or speak to one of our experts. Discover why professionals worldwide trust us for their vacuum needs. Elevate your vacuum experience – choose our Rotary Vane Vacuum Pump.
Applications for Trivac
Vacuum Evaporation
Vacuum Sputtering
Research and Development
Vacuum Coating
Leak Detection
Vacuum Furnaces
Roughing Vacuum Systems
Automotive Braking Systems