Apex's Vacuum Component Selection
A selection of vacuum flanges and fittings are available in all the standard type vacuum component systems, including NW (also known as KF or QF), ISO, ConFlat (CF, metal seal) and Weldable. Apex offers a complete line of accessories needed in rough, high vacuum and UHV systems including vacuum traps, electrical feedthroughs, vacuum valves and optical vacuum viewports. The standard material of construction is 304 SS, but 316L SS is available.
NW flange systems are quick connect systems with quick clamp and centering rings providing the connection. Sizes of 10mm to 50mm ID are available. NW fittings are good for all vacuum systems up to high vacuum. ISO flanges are similar to NW except they are larger in diameter, starting at 63mm and going to 500mm. ISO fittings are good choices for up to high vacuum. CF (or, metal seal) flange systems use a knife-edge seal with softer OFHC copper gaskets to form the leak tight vacuum seal that can be heated for bake-out to 450°C. CF flanges and fittings are great for UHV systems and/or systems that must be heated. 
We are pleased to offer a full line of vacuum valves. Types of vacuum valving include gate valves (pneumatic or manual- piton or metal seal bonnet), poppet valves or ball valves. All fitting types are provided including weldable tube end flanges on the roughing valves.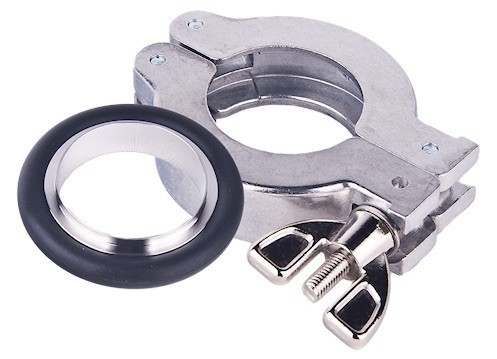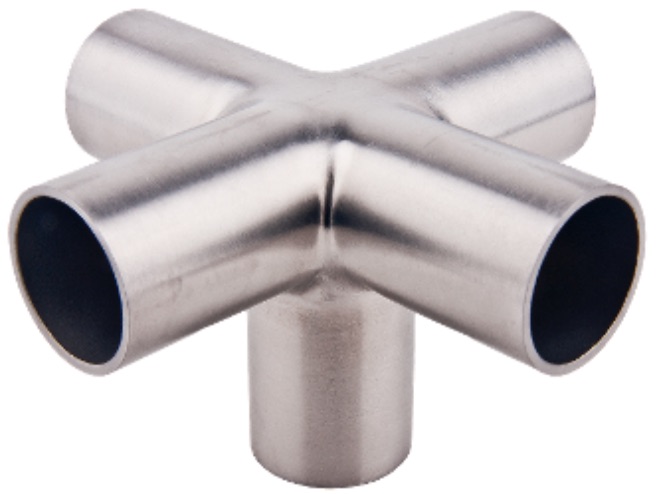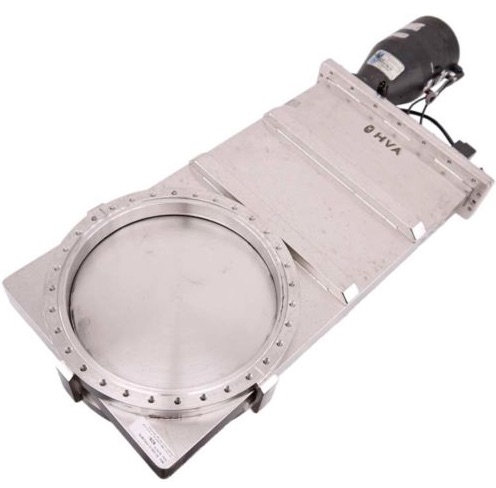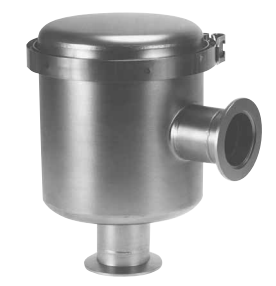 Most products are in stock for immediate shipment to the USA and Canada. We offer sales to international customers from our facility in Canton, GA USA. Our sales team can assist you in product selection for vacuum applications. We specialize in application knowledge to facilitate the best solutions for all vacuum applications. 
Types of Vacuum Flange Systems or Components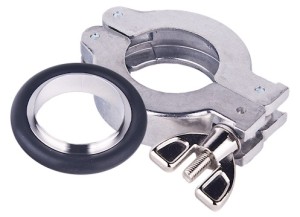 NW / KF / QF
NW Vacuum flanges and fittings use quick release latches, and are great from rough to high vacuum applications. The  utility of these fittings comes from their quickness and easy use. NW flanges and fittings are sometimes referred to as KF, or QF. KF is a more popular name in Europe coming from Klein Flansche. QF, standing for Quick Flange, is descriptive of the flange system type.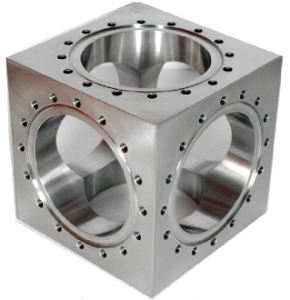 ConFlat (CF)
ConFlat Vacuum Fittings are used in high vacuum and ultra-high (UHV) applications. CF vacuum hardware is preferred due to its low outgassing and superior vacuum sealing capability. Their seals are generally operated with the principle of a knife edge seal that can seal the system from atmosphere. Out CF fittings are constructed with 304 stainless steel, though other materials can be manufactured by request. These seals are capable of withstanding bakeout temperatures of 400°C to minimize out-gassing.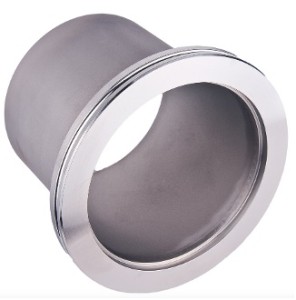 ISO
ISO Flanges are similar to NW flanges, but on a larger scale. ISO flanges use a centering ring with an elastomer material, held together with bolts or claw-type clamps. There are two main versions of ISO fittings: ISO-F and ISO-K. Bolted clamps are generally referred to as ISO-F while clamped are noted as ISO-K. ISO-F is more common on industrial connection when the quick release of the clamp is not a major priority.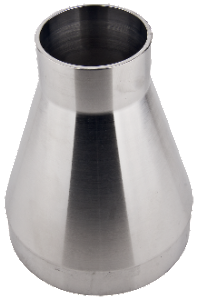 Weldables
Vacuum Weld Flanges are designed for rough vacuum and high vacuum applications. Weld flanges provide fittings for vacuum tubing used in roughing lines, fore lines and vacuum lines for abatement systems. All types of fittings, such as Elbows, Tees, Crosses and Adapters are available. Vacuum ball valves and poppet valves can be provided for roughing system isolation. The standard finish for weld fittings is tumbled, but other finishes, such as electro-polished, are available upon request.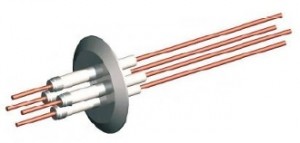 Electrical Feedthroughs
Electrical feedthroughs (or vacuum feedthroughs) transmit electrical signals from outside the vacuum chamber to equipment on the inside. Our hermetic sealed vacuum feedthroughs are designed for rough vacuum to high vacuum, and ultimately to ultra-high vacuum.  The range of vacuum needed depends on the type flange required. NPT Feedthroughs are usually for rough vacuum. ISO and NW are high vacuum oriented. UHV or ultra-high vacuum use the metal sealed ConFlat (or CF) vacuum flanges.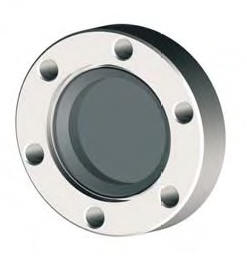 Vacuum Viewports
Our viewport selection covers all types of high vacuum and ultra-high vacuum applications and are customizable to your need. We are proud to offer different options to cover certain light wave frequencies or anti-reflective coatings to ensure success with your application. Viewports come in all different types of fittings, including weldable, CF, NW, and ISO.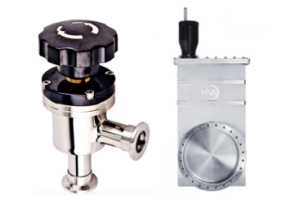 Valves
Apex offers a variety of valves including High Vacuum gate valves, Ultra-High gate valves, and Right Angle (or poppet) valves. These valves are manufactured to be compatible with any fitting: NW, ISO, CF, or even non-flanged, to weld onto a system. Valves selected need to be distinguished as either pneumatic or manual, depending on if you want outgoing gas to monitor itself. Have a question about your system or unsure what you need? Don't be afraid to contact us.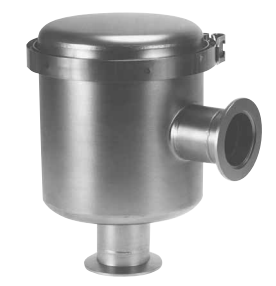 Traps
Vacuum Traps, or Foreline Vacuum Traps, are placed between the high vacuum pump and the backing pump on high vacuum and ultra-high vacuum systems. Vacuum Traps are specifically designed to capture various contaminants from entering the vacuum pump. Types of vacuum trap media include metal sieve, molecular sieve, metal or fiberglass fiber, and liquid nitrogen.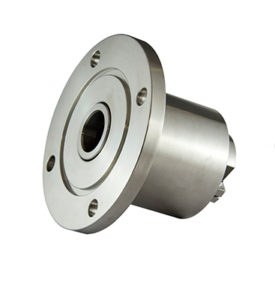 Ferrofluid Rotary Vacuum Feedthroughs
Ferrofluidic vacuum seals for transmitting motion into a vacuum system or chamber. Ferrofluid is small suspended particles in fluid that are attracted by a magnetic grooved pole piece that pulls the particles to form a high vacuum seal. Most importantly,Ferrofluid seals do not produce particles due to wearing which can contaminate products in vacuum coating applications. Feedthroughs can be either solid shaft or hollow shaft on various flanges.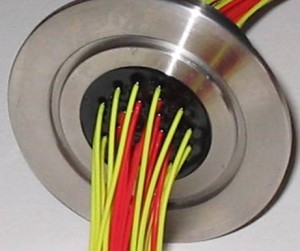 Wire Seal Feedthrough
Apex Wire Seal Feedthroughs (or, Cable Pass Through Feedthroughs) are designed to pass cables from atmosphere to high vacuum. Cables can include most types of instrumentation wire or cable. Standard temperature range is from -40°F to 200°F. Custom cables can usually be sealed to provide power, thermocouple, or communications to vacuum chambers of glove box systems. Cables such as USB, Ethernet and many photography cables have been passed through into vacuum or glove box systems.