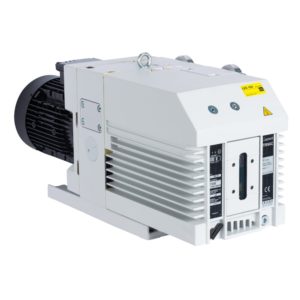 Applications for Trivac
Vacuum Evaporation
Vacuum Sputtering
Research and Development
Vacuum Coating
Leak Detection
Vacuum Furnaces
Roughing Vacuum Systems
Automotive Braking Systems
The two stage, oil lubricated TRIVAC B is the choice for vacuum pumps when durable evacuation or roughing is needed in vacuum systems. The TRIVAC B and TRIVAC BCS (synthetic oil for more corrosive applications) pumps, with their comprehensive range of accessories, have proven themselves as rugged pumps in many and varied applications. The ultimate pressure is about 10-4 mbar. The pumping speed, depending on the pump size, TRIVAC D 4 B to TRIVAC D 65 B, is in the range from 4 to 65 3/h (2 to 38 cfm).
TRIVAC BCS Rotary Vane Vacuum Pump
The TRIVAC BCS and its accessories:
- CFS (chemical filter with safety isolation valve) – ARS (exhaust filter with lubricant return)
– IGS (inert gas system)
– LSS (limit switch system) and
– EIS (electrical indicator system) complete the TRIVAC BCS system.
In many applications the use of synthetic lubricants like perfluoropolyether (PFPE or Krytox) offers superior characteristics compared to mineral oils.
The TRIVAC BCS Vacuum Pumps can be equipped with or without the PFPE or Krytox fluid. Call us at 800-331-2808 to discuss your application to determine what level of corrosive series vacuum pumping is needed. The TRIVAC BCS Series comes in sizes from the D16BCS to the D65BCS as described above the in mineral oil TRIVAC B Series.
TRIVAC DOT Series
For special applications for the automotive industry, the use of TRIVAC B-DOT versions is recommended. The TRIVAC B-DOT pumps operate with brake fluid (DOT 4) as the sealing and lubricating agent. These pumps are equipped with EPDM seals. EPDM is highly compatible with brake fluid. Except for the seals and the fluid the TRIVAC B-DOT pumps are identical to the oil-sealed TRIVAC B pumps
Trivac Product Information