Edwards ELD500 Helium Leak Detector
ELD500 Dry
ELD500 Flex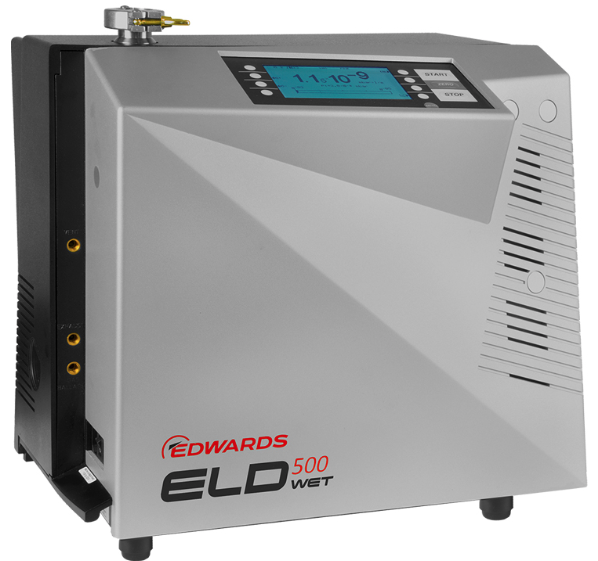 We make choices every day... some good and some bad. So when it comes to helium leak detectors and helium leak detection should you choose the Edwards ELD500 as the good choice in life?
Choosing the ELD500 you have less chance to:
Replace filaments in the mass spectrometer.
Wonder what's wrong as the ELD500 has an intuitive list of error and warnings.
Spend time on the phone waiting on tech support.
Wonder who can you call for help.
Make a dumb mistake that sends the leak detector to the repair shop.
The Edwards ELD500 Helium Leak Detector is simply the most robust  and accurate leak detector ever produced. Time after time, you can expect exacting results that are right on the money, allowing you to determine if your system is leaking and pinpointing the exact leak location. When things do go wrong the ELD500 provides error and warning instructions that allow you to determine the potential problem area. Documentation provided and assistance gets to the root of the problem so that you can be backing up and running ASAP. The ELD 500 provides high sensitivity leak detection with measurement of leak rates for Helium of <5x10e-12mbar l/sec  in vacuum mode and <7xe10-9 mbar l/sec sniffer mode
Edwards ELD500 & ELD500Dry Helium Leak Detector
The Edwards ELD500 and ELD500Dry Helium Leak Detector provides maximum uptime day after day, year after year. The ELD500's internal counterflow mass spectrometer and vacuum design set it apart from other leak detectors. With it's 180 degree mass spectrometer, leak rate accuracy is achieved time after time.
Features of the Edwards ELD500:
Dual yttriua iridium filaments able to withstand repeated air inrush and years of use before needing replacement
Internal helium calibrated leak for full auto calibration compensated for temperature and age
Minimum detectable leakage rate of 5 · 10-12 mbar·l/s in vacuum mode  & 

5 · 10-07 mbar l/s in sniff mode

Selectable test gases:  He4, He3 and H2.
Vacuum & Sniff Mode Operation
The ELD500 is available with an internal oil sealed backing pump, a oil free diaphragm dry pump (ELD500 Dry), a you choose the proper backing pump (ELD500 Flex) and cart mounted leak detection system for custom pumping configurations. We have what you need for helium leak detection!
Edwards ELD500 & ELD500Dry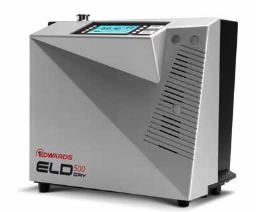 Edwards ELD500Flex
The ELD500Flex provides the option for choosing a backing pump for your particular application. Either oil sealed or dry scroll pumps can be used to provide backing for the ELD500Flex. The ELD500Flex Cart can be outfitted with the ELD500Flex and the backing pump. Metal vacuum hose connect the pump to the ELD500Flex. This design allows the user the flexibility to best match the leak detector performance to the individual application.
Dual yttriua iridium filaments able to withstand repeated air inrush and years of use before needing replacement
Internal helium calibrated leak for full auto calibration compensated for temperature and age
Minimum detectable leakage rate of 5 · 10-13 mbar·l/s in vacuum mode  & 

5 · 10-10 mbar l/s in sniff mode

Selectable test gases:  He4, He3 and H2.
Vacuum & Sniff Mode Operation
Universal power supply allows unit to operation anywhere in the world from 100-240VAC  50/60hz
Minimum detectable leak of 5E-12 mbar L/S He. in vacuum and 1E-7 mbar L/S He. in sniffing mode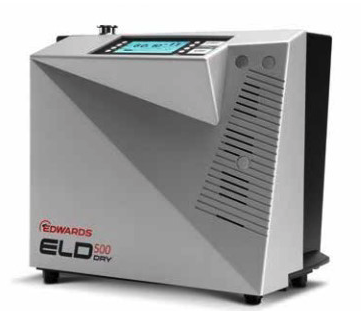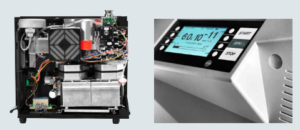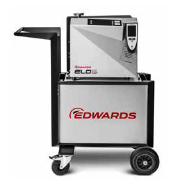 Key Features & Product Overview
Start Up Configuration & Accessories
Testing the Leak Integrity