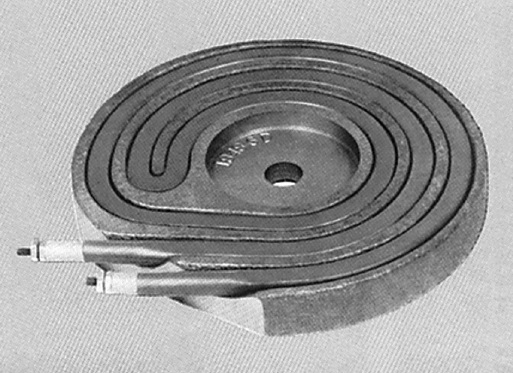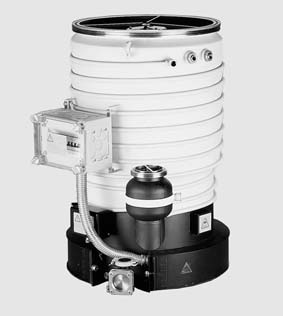 Diffusion Pump Heaters
Replacement diffusion pump heaters for all major manufacturers. Diff-Therm Platen Heaters provide 20% more heat than OEM heaters. Flat, smooth platen surface assures uniform, efficient heat transfer. DIP performance provides process improvements with higher throughput. Our one piece design (instead of the 3 piece OEM design) provides easier and faster installation.
Pump Heater Brands/Types of Heaters
Varian or Agilent - Diff-Therm Platen Heaters
Edwards Vacuum - Diff-Therm Platen Heaters
Leybold Vacuum- Watt-Flex Cartridge Heaters
CVC - Diff-Therm Platen Heaters
Veeco - Diff-Therm Platen Heaters
Cooke Vacuum - Diff-Therm Platen Heaters
Diff-Therm Accessories
High-Temperature Manganese Nickel Conductor Wire (1000°F Max)- Recommended as lead wires for connections to header terminals for high-temperature areas. Use with ceramic bead insulators below.
Ceramic Bead Insulators- Can Withstand temperatures to 2000°F
High-Temperature Nickel Ring Terminals (Stak-On type)- Good for connections in high-temperature areas.
Diff-Tranz High-Temperature Heat Transfer Compound for Temperatures to 1250°F (675°C) - A good idea for use with Ring heaters. Also good for mounting Platen heaters when contact between the heater and pump boiler plate is poor. Not recommended for cartridge heaters.
High-Temperature (850°F/450°C max) Insulated "A" Nickel Conductor Wire
DIP Heater Selection/Quote Request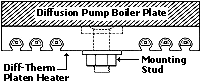 One-Piece Assembly Simplifies Installation
Our platen heaters are one piece instead of 3 pieces (conventional tubular/crush plate design). Alignment and fit is never an issue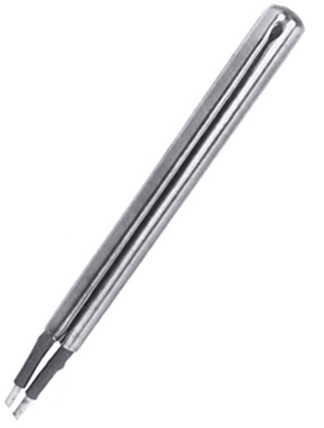 Watt-Flex® Cartridge Heaters 
Watt-Flex®  Cartridge Heaters are direct replacements for Leybold Vacuum Diffusion Pump Heaters.
The split sheath heater of the Watt-Flex is easily inserted into the heater tube at the base of the Leybold pump and can be provided with or without the mounting bracket used to secure the heater in place. When energized, the heater legs expand to make snug contact with the bore for maximum heat transfer. When de-energized, the heater contracts for easy removal. This eliminates the chance of having to drill out the heater, saving time and energy.
Diffusion Pump Selection Guide by Pump Model
Heater Replacement Guide:

 VARIAN / NRC

PUMP
SIZE

PUMP
MODEL

Heaters
per Pump

Electrical Rating

VARIAN/NRC
HEATER NO.

DALTON
PART NO.

HEATER
TYPE

WATTS

VOLTS

2"

HSA

1

350W

120V

0181-6473-01-100

W5C030-0117

CARTR.

2"

HS-2

1

450W

120V

0181-6473-02-125

W5C033-0118

CARTR.

2"

M-2


1

450W

120V

0181-6472-03-120

4/512-2/9D

PLATEN

4"

H4X,
VHS-4

1

1450W

120V

0181-6473-04-205

1512-4/9D

PLATEN

4"

H4X,
VHS-4

1

1450W

208V

0181-6473-210

1521-4/9D

PLATEN

4"

H4X,
VHS-4

1

1450W

240V

0181-6473-04-250

1524-4/9D

PLATEN

4"

M-4,
NHS-4

1

1190W

120

0181-6473-04-100

1212-4/9D

PLATEN

4"

M-4,
NHS-4

1

1190W

240

0181-6473-04-200

1224-4/9D

PLATEN

4"

VARIOUS

1

AS REQUIRED

--

CUSTOM 4/9D

PLATEN

4"

HS4/0161

1

1000W

120V

0181-6473-04-004

1012-5/D

PLATEN

4"

VARIOUS

1

AS REQUIRED

--

CUSTOM 5D

PLATEN

6"

VHS-6,
VS250

1

2200W

120V

0181-6473-06-125

2212-6D

PLATEN

6"

VHS-6,
VHS250

1

2200W

208V

0181-6473-06-175

2221-6D

PLATEN

6"

VHS-6,
VHS250

1

2200W

240V

0181-6473-06-225

2224-6D

PLATEN

6"

VHS-6,
VHS250

1

2200W

480V

NOT LISTED

2248-6D

PLATEN

6"

M-6,
NHS-6

1

1785W

120V

0181-6473-06-100

1812-6D

PLATEN

6"

M-6,
NHS-6

1

1500W

208V

0181-6473-06-150

1521-6D

PLATEN

6"

M-6,
NHS-6

1

1785W

240V

0181-6473-06-200

1824-6D

PLATEN

6"

VARIOUS

1

AS REQUIRED

CUSTOM 6D

PLATEN

6"

HS6/0162

1

1800W

120V

0181-6473-01-005

1812-7D

PLATEN

6"

HS6/0162

1

1800W

240V

0181-6473-01-006

1824-7D

PLATEN

6"

VARIOUS

1

AS REQUIRED

CUSTOM 7D

PLATEN

10"

HS-10

1

3900W

208V

NOT LISTED

3921-11D

PLATEN

10"

HS-10

1

3900W

240V

NOT LISTED

3924-11D

PLATEN

10"

HS-10

1

3900W

480V

NOT LISTED

3948-11D

PLATEN

10"

HS-10

1

3300W

480V

0180-6473-10-230

3348-11D

PLATEN

10"

VARIOUS

1

AS REQUIRED

CUSTOM-11D

PLATEN

10"

VHS-10, VHS400

1

5000W

208V

NOT LISTED

5021-12D

PLATEN

10"

VHS-10, VHS400

1

5000W

240V

NOT LISTED

5024-12D

PLATEN

10"

VHS-10, VHS400

1

5000W

480V

NOT LISTED

5048-12D

PLATEN

10"

VHS-10, VHS400

1

4400W

208V

0181-6473-10-140 (x2)

4421-12D

PLATEN

10"

VHS-10, VHS400

1

4400W

240V

0181-6473-10-150 (x2)

4424-12D

PLATEN

10"

VHS-10, VHS400

1

4400W

480V

0181-6473-10-170 (x2)

4448-12D

PLATEN

10"

VARIOUS

1

AS REQUIRED

CUSTOM 12D

PLATEN

16"

HS-16

3

3200W

240V

NOT LISTED

3224-8R

PLATEN

16"

HS-16

3

3200W

480V

NOT LISTED

3248-8R

PLATEN

16"

HS-16

3

2700W

240V

0181-6473-16-035

2724-8R

PLATEN

16"

HS-16

3

2700W

480V

0181-6473-16-045

2748-8R

PLATEN

16"

VARIOUS

3

AS REQUIRED

CUSTOM 8R

PLATEN

20"

HS-20

6

2400W

240V

NOT LISTED

2424-10R

PLATEN

20"

HS-20

6

2400W

480V

NOT LISTED

2448-10R

PLATEN

20"

HS-20

6

2000W

240V

0181-6473-20-060

2024-10R

PLATEN

20"

HS-20

6

2000W

480V

0181-6473-20-070

2048-10R

PLATEN

20"

HS-20

6

AS REQUIRED

CUSTOM 10R

PLATEN

32"

HS-32

6

4000W

240V

0181-6473-32-075

4024-14R

PLATEN

32"

HS-32

6

4000W

480V

0181-6473-32-075

4048-14R

PLATEN

32"

VARIOUS

6

AS REQUIRED

CUSTOM 14R

PLATEN

35"

NHS-35

6

4000W

240V

0181-6472-35-248

4024-16/8R

PLATEN

35"

NHS-35

6

4000W

480V

0181-6472-35-248

4048-16/8R

PLATEN

35"

VARIOUS

6

AS REQUIRED

CUSTOM16/8R

 
eater Replacement Guide:

 Leybold Vacuum Diffusion Pumps

PUMP
SIZE

PUMP
MODEL

Heaters
per Pump

Electrical Rating

LEYBOLD
PART NO.

DALTON
PART NO.

HEATER
TYPE

WATTS

VOLTS

 
Heater Replacement Guide:

 EDWARDS HIGH VACUUM

PUMP
SIZE

PUMP
MODEL

Heaters
per Pump

Electrical Rating

EDWARDS HEATER NO.

DALTON
PART NO.

HEATER
TYPE

WATTS

VOLTS

 
Heater Replacement Guide:

 VEECO Vacuum Diffusion Pumps

PUMP
SIZE

PUMP
MODEL

Heaters
per Pump

Electrical Rating

VEECO
HEATER NO.

DALTON
PART NO.

HEATER
TYPE

WATTS

VOLTS

 
[/vc_column_text][/vc_column][/vc_row][vc_row][vc_column width="1/1"][vc_column_text]
Heater Replacement Guide:

 CVC Products

PUMP
SIZE

PUMP
MODEL

Heaters
per Pump

Electrical Rating

CVC PRODUCTS
PART NO.

DALTON
PART NO.

HEATER
TYPE

WATTS

VOLTS