Options Available on Apex Devices
Totalizer (TOT)
The totalizer option function that can be added to any mass flow meter or mass flow controller. The Totalizer function totals the gas through the Apex Device displaying it on the on-board display. The Totalizer display can be ordered to freeze, roll-over to zero, or roll-over to zero with an error signal when maximum volume of gas is reached.
Communication Protocols
Standard Communications protocols can be either 0-5V, 0-10V,  or 4-20 mAmps. All devices come standard with RS-232. Apex Mass Flow Controllers, Mass Flow Meters and Pressure Controllers can be equipped with communication protocols such as Profibus, Modbus-RTU, Modbus TCP/IP, RS-485, EtherCat, Ethernet/IP,  & DeviceNet.
Electrical Connectors
Apex Mass Flow Controllers, Meters & Pressure Controllers come standard with 8 Pin Din Connectors. Optional electrical connectors include, M12, 9 Pin Sub D, 15 Pin Sub D,  and 6 Pin Industrial. Pin outs are available to match competitors pin-outs for drop in replacement of competitor models. 
Integrated Potentiometer Control
The Integrated Potentiometer Control option provides precise control of the set point in an Apex Mss Flow Controller, Mass Flow Meter or Pressure Controller with the turn of the knob.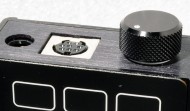 Integrated Potentiometer Control
Display Options
Monochrome LCD is standard but other display options are available. These include Color TFT (backlit), color remote display (backlit),  monochrome remote display, and no display option.
CSA/ATEX Designation
The CSA Class 1 Division 2 (ATEX Class 1 Zone 2) meters, gauges and controllers are approved for use in environments where ignitable gases are present.

Remote Display Option 
The Remotre Display Option allows the user to mount the Apex Display in a remote location connected to the device by a ribbon type cable.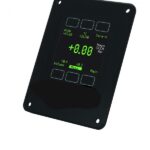 Remote Display High Temperature Electronics
Allows for gas temps to 100°C (85°C ambient).
Seal and Valve Options
Seal materials included, Viton, EPDM, FFKM, Silicone and USP VI Series. Valve options include Stainless Steel, larger and smaller flow valves for particular applications, 316/FFKM (corrosive applications),316L/EPOM (higher pressure applications) and Rolamite Valves.
Helium Leak Check
Helium Leak Check to 1x10e-09 atm cc/sec.
Custom Calibration Options
Many calibration options exist including high accuracy calibration, NIST-Traceable, custom pressures, additional data points, ISO 17025 Certifications available and many others. Consult with your Apex Technical Representative with questions and more information.