Options Available on Apex Devices
Communication Protocols
Apex Mass Flow Controllers, Mass Flow Meters and Pressure Controllers can be equipped with communication protocols such as Profibus, Modbus and RS-485. 
Totalizer (TOT)
The totalizer option function that can be added to any mass flow meter or mass flow controller. The Totalizer function totals the gas through the Apex Device displaying it on the on-board display. The Totalizer display can be ordered to freeze, roll-over to zero, or roll-over to zero with an error signal when maximum volume of gas is reached.
Integrated Potentiometer Control
The Integrated Potentiometer Control option provides precise control of the set point in an Apex Mss Flow Controller, Mass Flow Meter or Pressure Controller with the turn of the knob.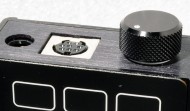 Integrated Potentiometer Control
CSA/ATEX Designation
The CSA Class 1 Division 2 (ATEX Class 1 Zone 2) meters, gauges and controllers are approved for use in environments where ignitable gases are present.