Wire Seal Feedthroughs
Flanges such as NPT, UPF or NW (also known as KF)
Applications for Vacuum Chambers or Gloveboxes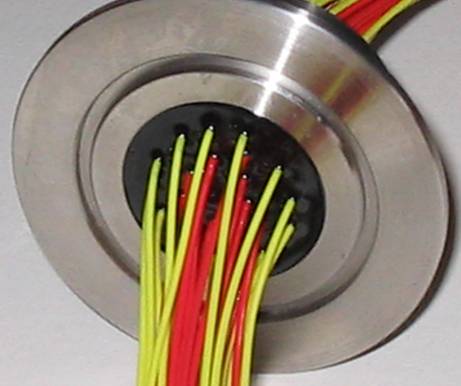 Apex Wire Seal Feedthroughs (or, Cable Pass Through Feedthroughs) are designed to pass cables from atmosphere to high vacuum. Cables can include most types of instrumentation wire or cable. Standard temperature range is from -40F to 200F. Please consult our factory if your specifications are outside this temperature range. Each wire feedthrough has a 12-month warranty.
Custom cables can usually be sealed to provide power, thermocoupling, or communication to vacuum chambers of glovebox systems. Cables such as USB, Ethernet and many photography cables have been passed through into vacuum or glovebox systems.
Apex Vacuum Wire Seal Feedthrough or Cable Pass Through Vacuum Feedthrough
Leak Tested to 1x10-10 atm cc/sec

NPT, KF, NW or Male UNF Flanges

Can be used for many different cables including USB, ethernet and instrument wiring

Exclusive SERCOSEAL hermetic sealing

Customized to your specifications
Applications in which these wire seal feedthroughs are commonly used are:
Semiconductor processing equipment

Particle accelerators

Furnaces

Analytical equipment

In-vacuum coating

Satellite instrumentation

X-ray detection equipment

Gloveboxes (atmospheric or vacuum)
Custom Wire Feedthrough Quote Form
Obtain a custom quote by completing the online form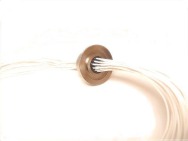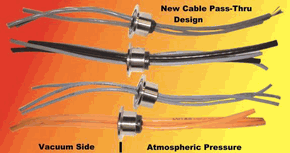 Once your quote is submitted using the on-line quote form, you should receive a reply in 1 business day. 
Construction of the Wire Seal Feedthroughs
 Wire Types
Copper stranded
Copper Buss
Copper/constant
Chromel/alumel
Iron/constantan
Chromel/constantan
Wire Gauges
Wire gauge (stocked)
Thermocouple: 24 gauge
Copper: 28 to 12 gauge
Custom Lengths (inches):
Length inside (vacuum)
Length outside (atmospheric)