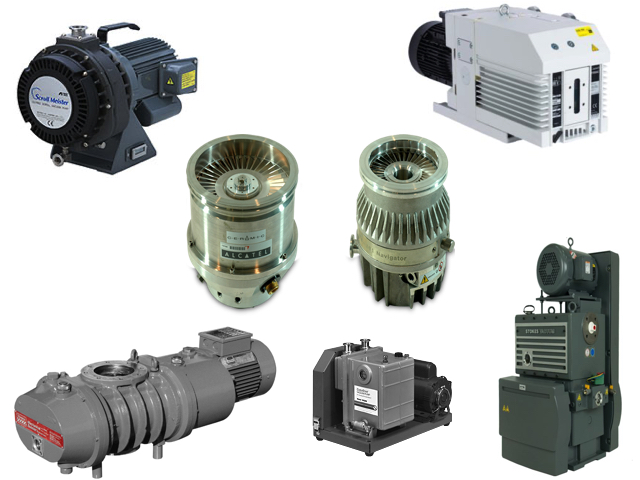 Rebuilding vacuum pumps is a service needed for ongoing operation. We provide vacuum pump rebuilds from qualified and experienced rebuild technicians for both rough vacuum and high vacuum turbopumps. In addition to meeting customer expectations of fast turnaround, we also offer quality workmanship, highest quality parts and attention to detail in communication with the customer. There are many shops that rebuild vacuum pumps successfully; however, what makes us different is that we want to make the vacuum pump rebuilds process easy and convenient. We are available to answer questions through the whole process so that you know the status of what is going on and when you can expect to receive your rebuilt pump back. Our rebuilt pumps are backed by a manufacturer's warranty against parts and labor performed on the pump.
Here are the types of pumps we currently rebuild:
Rotary Vane Vacuum Pumps- Single Stage & Dual Stage
Rotary Piston Vacuum Pumps
Roots Blowers
Scroll Pumps
High Vacuum Turbopumps
Leybold Vacuum
Edwards Vacuum
Welch Vacuum
Busch Vacuum
Pfeiffer Vacuum
Stokes Vacuum
Varian/Agilent
Leybold Vacuum
Edwards Vacuum
Welch Vacuum
Busch Vacuum
Pfeiffer Vacuum
Stokes Vacuum
Kinney
Leybold Vacuum
Edwards Vacuum
Welch Vacuum
Busch Vacuum
Stokes Vacuum
Varian/Agilent
Kinney
Leybold Vacuum
Edwards Vacuum
Agilent/Varian
Anest Iwata 
Vacuum Pump Rebuilds Process
We provide a standard rebuild quotation for your vacuum pump covering all consumable standard wear parts.
We ask for a PO to cover the standard rebuild of the pump and issue RMA for shipment to our rebuild facility.
Once the pump is received we conduct an evaluation of the pump to determine if any work or parts that are needed above the standard rebuild is required.
If applicable, a new quotation is sent for the additional parts/work needed and we wait for customer approval.
Pump is then cleaned and new parts replaced as specified in the quotation.
Pump is then re-assembled
Pump is run tested for 24 hours and monitored by our vacuum measuring equipment to make sure it meets pumping specifications.
Pump is then repackaged for shipment back to the customer with a 12 month re-manufacturers warranty on replaced equipment and work performed.