Apex Mass Flow Leak Detection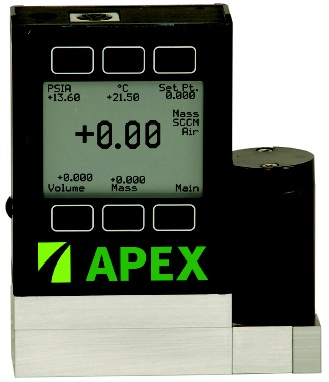 Apex Flow Leak Detector
Apex has released a new product in leak detection using flow technology. The Apex Flow Leak Detector opens the door to leak detection with a variety of gases, including air. Find leaks as small as 0.0025 standard cubic centimeters per minute (sccm).
How the Apex Flow Leak Detector Works
Choose a specific gas from the 30 gases in the Apex gas library to pressurize your desired test piping or equipment. Set the pressure on the Apex Leak Detector to the desired testing pressure and begin flowing gas. Once pressure has been reached, monitor the flow. If the piece being tested is leak free, then the flow will equalize at zero once pressure is reached. If there is a leak, to keep that pressure steady the Apex Flow Leak Detector will have a flow value. This flow value is directly proportional to the leak size depending on the pressure being tested at.
Teaming with the Lokring Hydrogen Leak Detector
The Apex Mass Flow Leak Detector finds total leak rate of the closed system but does not identify the leak locations. Using a 5% Hydrogen/95% Nitrogen tracer gas (non-combustible mixture), once the unit is determined to have leaks, the unit can be scanned using our Lokring Hydrogen Sniffer Leak Detector. Leak rates as small as 0.25 oz/yr of refrigerant gas can be identified. Once the leak location is identified, the unit can be repaired and re-tested.